Hey, Beautiful People Welcome To my Honest Sqribble Review
Are you an Online Entrepreneur, Blogger, Email Marketer or Online Content Creator?
If yes, then you might have struggled in making ebooks for your audience to give value and making good connections with them.
I know making valuable eBooks takes a lot of time and energy, especially If you want to run your online business for a long time and want to build a genuine following.
You don't want to share something that has no value and your audience will not get solution to their problems. So, making a good eBook to make your audience/community happy is a responsible task that you don't want to make any compromises with it.
Also, creating a useful content consumes so much of your time. For example, if you want to share an eBook of at least 70-100 pages you will need couple of days to complete it – You can take much longer If you are busy with other things and your writing speed is not so good.
So, In this post, I will talk about a software that will make your LIFE so much easier and help you to create a good quality eBook in minutes that your audience will love and enjoy reading it.
Read also: How to increase productivity and blog better.
This post is especially for bloggers, email marketers and affiliate marketers who struggle in making good quality ebooks for their audience.
If you can relate then enjoy reading and getting information related to ebook, reports and whitepapers creating tool.
Sqribble is a creator cloud-based software/studio made to help you create ebooks quickly. Software owners claim that this tool is the best Ebook creator. The idea behind creating this studio is to help online entrepreneurs making ebooks effectively in no time.
So, basically it is designed to make it very simple for us to create ebook from scratch and this tool is for anyone who want to create ebooks, whether they want to sell it online or to provide value content to the readers in exchange of their emails.
Many bloggers and affiliate marketers hire freelancers to write and create ebooks for them and pay them high and many create ebooks by themselves spending hours and hours writing ebooks. That is why this cloud-based software is designed where it is become so simple to make a good quality ebook in minutes.
That means you will save a huge chunk of money and time if you are hiring freelancers to write ebooks and you are writing on your own by spending hours brainstorming and creating useful content.
If I summarise all the features then sqribble can help you in following things,
Sqribble has a user-friendly dashboard
This is cloud-based software, and thus you don't need to download or install anything
50 amazing eBook templates created by top designers
Templates for over 15 categories
Automatic content creation for eBooks
Great eCovers to help you save time by creating professional-looking eBook covers.
These covers will help portray you as a trustworthy and authoritative marketer
About the creator
Sqribble has been developed by Adeel Chowdhry, who is a well-known internet entrepreneur and best seller, with over ten years of experience and has previously created worldwide hits such as Pixel Studio FX which sold tens of thousands of units all around the world.
He's known for creating high quality professional solutions and I expect no less from Sqribble.
What will you get using Sqribble?
Automatic Content
You can get automated content for your reports, ebooks, and whitepapers. You don't need to add content or anything, Sqribble will create automated fresh ready-made content by using sources from the web usually from URL (Universal Resource Locater).
Eye catching templates/ebook covers
It is important to make attractive and stunning covers or templates so that reader will buy your ebook or will be ready to provide email address in exchange of an ebook.
Sqribble provides ready-made good looking templates and each template comes along with table of content and professional page layout so that convert your readers into leads and then customer.
Customization
You will have the authority to choose a color theme and do other customizations. For example, add, remove or edit pages, images, paragraph, headlines, buttons and links.
You can upload your own images you will have 100MB of space. Also, you will get 50 attractive templates on 15 different niches.
So, you will have the full control and you can make changes on appearance and content.
And in few minutes you can create an ebook to sell it online and give it to your readers for the purpose of email list building.
There is no limit in creating ebooks, you can create as many as you want. You can also use their content engine where you can write ebooks easily and fast.
You will also like: Must have skills to run an online business.
Sqribble Review: Pricing & Upgrades
So, it is important to know that this useful tool is budget friendly or not and can we really save money, time and energy using this cloud-based software? As you don't want to see a price tag that is way too high for you to invest money in it.
But don't worry sqribble comes with the price tag of $67 which is quite budget-friendly. If you pay $200-$400 to freelancers for creating ebooks then getting software that do the same job for you in minutes and saves your money then getting a Sqribble will be a smart move.
In addition to $67 fee, there are some upsell for this product, but the basic package of $67 provide the solid value.
So, It's a fair price for the information and product you are buying also it comes with 30 days satisfaction guarantee. So, if it doesn't save your money and time and doesn't help you in building your email list you can take your money back in 30 days.
Also, you will get 25 bonuses with single sign-up of Sqribble.
OTO#1: Sqribble PROFESSIONAL Edition ($97)
This is an upgrade to Sqribble, and it will help you unlock more eBook designs, more templates, enhanced features, stunning graphics, more ready-made content, and much more….
OTO#2: Sqribble PRIME ($47)
The Sqribble Prime Membership is an exclusive club that offers you 15 new limited edition templates that you can use every month for a whole year…..
The templates are exclusively reserved for Prime members and are made by top graphic designers.
These templates will give you an edge over your competition.
You can increase your personal library with these new templates.
The best thing is that there are no recurring charges; only a one-time payment and you will receive 12 months of new templates every month.
Join Sqribble Prime to get a huge supply of fresh, exclusive eBook templates every month.
OTO#3: FANTASIA 3D ($77)
After creating your content-rich eBook, you will need a cover to market it.
Whether you are marketing your eBook offline or online, it needs to have a great cover. As you know, people judge a book by its cover.
Great-looking eBooks and reports are more preferred and will, therefore, get more downloads, more sales, and more leads.
Therefore, why use the 2D covers offered by standard version of Sqribble while you can upgrade and be able to use 3D covers?
This is made possible by Sqribble Fantasia. This is 2-in-1 software that helps you turn your eBook into an interactive 3D flipbook that engages your audience…..
OTO#4: Auto Job Finder ($197)
If you are searching for freelance work to do after work or full-time, then this amazing Auto Job Finder software can help you in a big way.
With its AI Technology, it will help you find fresh jobs as well as endless clients that are need of what you are offering…..
Sqribble Real User Reviews:
Benefits you get using this tool
Cut the long process of producing books
I know writing ebooks consume a lot of time. You will literally make ebooks in minutes using this tool and that why this software is designed for to help us producing ebooks fast and save our time.
Help you in saving money
Writing a good quality professional ebook takes a great amount of time and expertise and many people outsource this task to freelancers which costs a lot of money. Sqribble saves your money!
You can create unlimited ebooks anywhere anytime
So, basically, there is no limitation in creating ebooks as to-date. You can access this software from anywhere anytime, just require an internet connection and laptop or mobile device.
The Good, The Bad & The Awesome About Sqribble Ebook App
The good
— Easy to use
— Glitch free
— Unlimited use (one-time payment)
The bad
— Some of my favorite features are locked behind upsells (3D covers and Flipbook feature)
— When inserting content from a URL, you need to cite the URL source and/or credit the original author of the content, if it's not your own (this isn't really Sqribble's fault — it's just the law!)
The awesome
— Tons of excellent eBook templates
— Professional page layouts
— Automatic content
— 3D cover creator (available through upsells)
— Flipbook creator (available through upsells)
— Free commercial agency + website included!
How Does Sqribble Work?
There are 50 templates that you can use to design your book.
It is possible to change these around with the colours and design as you want it with drag and drop technology (see above video around 15 minutes and 20 seconds in).
But how do you actually get the content to put in the book?
There are a few ways to do this:
Grab from a URL
Start from scratch
Copy and paste manually
Upload Word File
Start from Article Collection
So let's go into a bit more detail about these options…
CHECK SOME OF THE STUNNING EBOOK TEMPLATES
My Final Verdict
If you are looking for creating ebooks without spending hours and hours on brainstorming, creating content, designing and formatting and also don't want to spend $200-$500 paying to freelancers then probably getting Sqribble is best option for you.
You can always write your own content fast on Sqribble engine if you want to add your ideas. You will have the full control in adding and deleting things, editing paragraphs and what not. Sqribble makes it more easy for you by providing stunning eye-catching ecovers for your book.
Features that make Sqribble worth buying:
50 ebook templates
Table of content
Automated Content creation
Automated headers and footers
Drag and drop option
Adding your own images and media
300 google fonts
Ebook colorful themes
30 days full price money back guarantee.
So, investing $67 for unlimited number of books with all other perks and bonuses is the best investment you will make for your online business. Eventually everyone make investment to grow their business and earn more money.
I would recommend Sqribble software to bloggers and affiliate marketer and anyone who want to sell ebooks online and build email list.
Read also: Best Passive Income Ideas to start with little or no money.
Premium Exclusive Bonus Worth $26999
Below Bonuses are for early action takers only & all the bonuses are Premium & no one can provide it for free…So Take Action Now!!
GRAB $4999 WORTH PREMIUM BONUSES FOR FREE
Mega Bonus Pack of 10 ( I Call This Money Maker Bonus)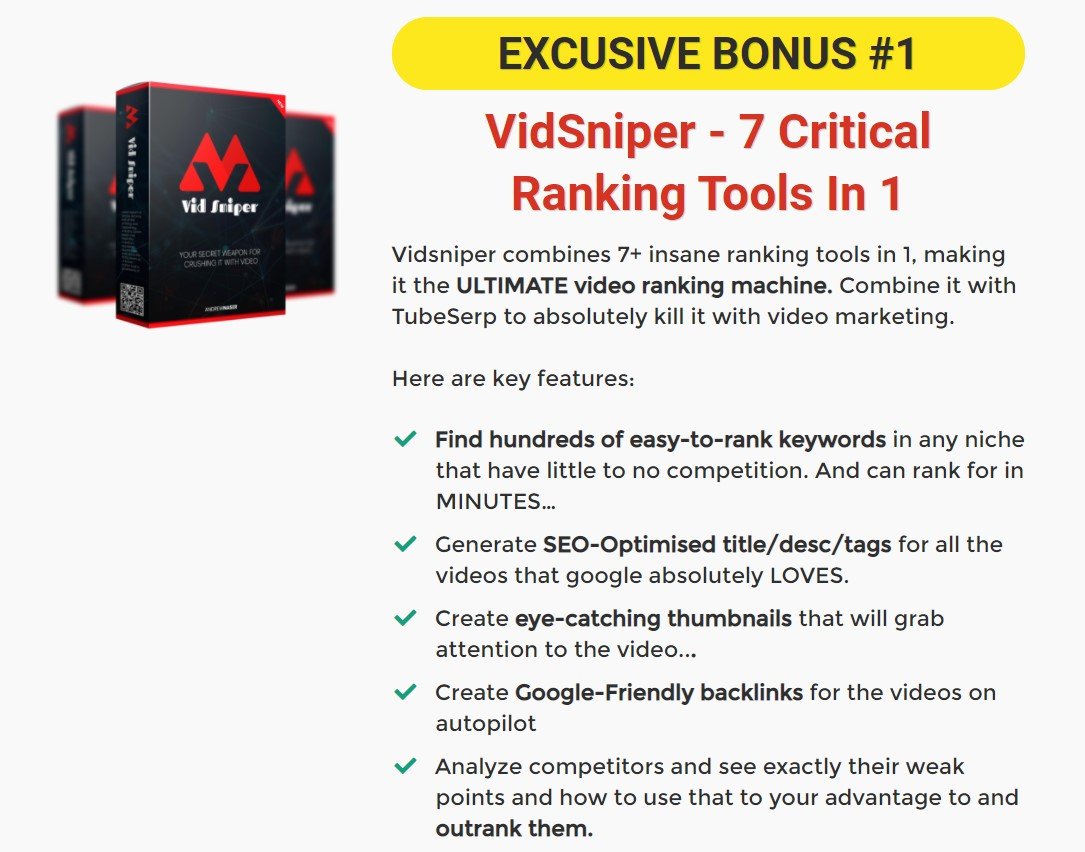 Mega Premium Bonus #1 – 21 Day Video Mentorship Training ($497)
Don't know how to get traffic, leads and sales from your videos?
Join our 21 day mentorship training calls where we reveal step-by-step how you can get traffic, leads and sales from your videos. This is a MUST HAVE if you want to get real results from your DoodleMaker videos or any other video app you own.
Mega Premium Bonus #2 – Skype Mentorship Group Access ($997)
Join this private Skype mentorship group to Interact, learn, network and thrive alongside hundreds of other like-minded online entrepreneurs who all share the same passion of building and growing successful businesses.
Weekly training, bonuses worth thousands and free software giveaways are the perks you get when you join this private skype group!
Mega Premium Bonus #3 – VideoAgency Biz Bundle ($997)
With DoodleMaker and the other video apps you own you can create amazing videos, BUT do you have all the tools you need to sell these videos for TOP DOLLAR?
This all-inclusive video agency biz bundle includes done-for-you emails, client contracts, business cards, invoices and other tools you can start using immediately and look like an authority. Video creation services are HOT right now, so you can use this to start selling immediately.
Charge more for your services and crush your competition!
Mega Premium Bonus #4 – Artificial Intelligence Logo Creator ($67 Value)
Create professional eye catching logos and sell them to local business for $300 to $500 or integrate them with your DoodleMaker videos in seconds!
The unique built-in "artificial intelligence" engine that automatically finds the relevant icons, images & fonts and then generates dozens of variations of your logos in minutes. Select the one you like and download!
Perfectly integrates with DoodleMaker. Just import the logos created by the AI Logo Creator into DoodleMaker and add it to your video templates.
Save money and time, you never have to pay a designer to create logos ever again!
Mega Premium Bonus #5 – 80,000 Content Engine Library ($97 Value)
Find content from the HOTTEST niches without writing a single word!
Content engine comes with a library 80,000 content pieces from all the HOT niches. You can convert this content into engaging voiceovers and add them to your videos inside DoodleMaker.
You can also use the content for your blog posts, videos, and emails to get traffic, leads and sales!
Mega Premium Bonus #6 – DoodleMaker Agency Website ($297 Value)
Want to sell the videos you create with DoodleMaker for top dollar online?
Use our professionally designed "done-for-you" agency website to look like an authority to charge MORE for your services!
The site ready with professional copywriting geared to convert your prospects into SALES!
Mega Premium Bonus #7 – Doodle Video Framework Scripts ($67 Value)
Don't know how to write compelling script for your Videos? Use this time-tested secret doodle video creation video script framework to make engaging videos that work across ANY industry. This will be your shortcut to understand and implement the exact secret used by the top copywriters around the world without having to go through hundreds of hours of training!
Mega Premium Bonus #8 – Royalty-Free Music Tracks ($197 Value)
Stop wasting time and money searching and paying hefty fees to find music tracks for your videos.
Use this royalty-free music library that's integrated with VideoDashboard to spice up any video and explode your results!
Mega Premium Bonus #9 – DoodleMaker Success Case Studies ($197 Value)
Copy your way to success without worrying reinventing the wheel. Get instant access to case studies of other users who have been using DoodleMaker to maximize revenues, leads and sales. Apply these strategies in your own business to get results fast!
Mega Premium Bonus #10 – Video Summarizer App ($67 Value)
This powerful app allows you to take ANY long video and automatically summarize the key content in that video so you can then paste these short notes & bullet points into Doodle Maker app to create short educational videos that get more traffic, leads and sales for ANY industry!
Huge Free Bonuses Worth $25000 overall Bonuses Here:-
Push Click Commission (Worth $297)
Additonal Huge Bonuses: Overall 50+ Bonuses worth
BONUS #1 (Value 200$)
BONUS #2 (Value 200$)
BONUS #3 (Value 200$)
BONUS #4 (Value 200$)
BONUS #5 (Value 200$)
BONUS #6 (Value 200$)
BONUS #7 (Value 200$)
BONUS #8 (Value 200$)
BONUS #9 (Value 200$)
BONUS #10 (Value 200$)
BONUS #11 (Value 200$)
BONUS #12 (Value 100$)
BONUS #13 (Value 100$)
BONUS #14 (Value 200$)
WP PLUGIN BONUS PACKAGE <<
Bonus 01
WP Email Timer Plus WordPress Plugin
Bonus 02
WP Notification Bar WordPress Plugin
Bonus 03
WPOnFire Plugin
Bonus 04
WP Ad Hub Plugin
Bonus 05
WPStickyBars WordPress Plugin
Bonus 06
WP Ebook Maker Plugin
Bonus 07
WP Instant Decor Plugin
Bonus 08
WP Cool Live Chat Plugin
Bonus 09
WP Slideshow Master Plugin
Bonus 10
WP Engage+ Plugin
Bonus 11
WP Review Me Plugin
Bonus 12
WP Sonic Dispatch Plugin
Bonus 13
Lead Gate Pro White Label ($97 Value)
Bonus 14
VidIntra ($67 Value)
Bonus 15
WP Lockdown White Label ($97 Value)
Bonus 16
Auto Post Wiz White Label ($97 Value)
Huge Bonuses from Here and you will get all the Bonuses to your email by buying from Here
Bonus #1 Instagram Monetization Checklist
Bonus #2 Youtube Authority Video Upgrade
Bonus #3 WP Video Commission Plugin
Bonus #4 How To Build Your Brand With Instagram Images!
Bonus #5 Chatbot Marketing Mastery
Bonus #6 Turo Graphics
Bonus #7 30 Days to Build Your Bigger Email List
Bonus #8 Easy Survey Generator
Bonus #9 60 Photoshop Action Scripts
Bonus #9 Facebook Ad Templates
Some Extra Bonuses (More than 20+ Valuable Bonuses)